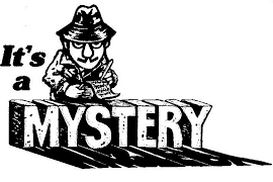 The Mystery Book Group meets the 2nd Saturday of each month at the Georgetown Public Library
The Mystery Readers do not read the same book at the same time.  We have themes rather than specifics, such as:  Mystery at sea, Mystery in a closed room, Mystery set in Texas, Amateur detective, Foreign mystery, etc.  People also tend to read more than one book.  We don't make a big thing of it if someone doesn't like a topic and chooses something else entirely. Everyone participates and we never give away the ending.
The theme for the September meeting is "What I Read This Summer"
Everyone who loves a good "whodoneit" is invited to join the Mystery Readers.
Topics for 2016-12017 include:  What I read this summer, Same name (author or protagonist) as your own, Your first favorite mystery author, A mystery from the land of your ancestors, Young adult sleuths.  As you can see, we aren't restrictive!
The contact person for this special interest group is Kathalee Holmans.