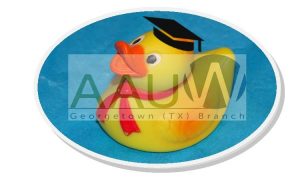 6th ANNUAL AAUW DUCK RACE
Saturday. September 25th, 2021, at 11:00 AM
_______________________________
GEORGETOWN SAN GABRIEL PARK
AT THE LOWER DAM CROSSING
_______________________________
1ST PRIZE –  $500 Gift Cards (VISA + Mesquite Creek Outfitters)
2ND PRIZE – $300 Gift Cards (VISA +restaurants)
3RD PRIZE – $100 TARGET GIFT CARD
The Georgetown Branch of the American Association of University Women (AAUW) is holding the 6th Annual Duck Race at San Gabriel Park.  It will be at the Lower Dam Crossing on Sat. September 25th, at 11:00 AM.  A $10 donation buys a duck.  Race Prizes will be awarded to the 1st, 2nd and 3rd place duck winners overall, from the FINAL HEAT.
BUY A DUCK !! You do not need to be present to win but we invite you to join us and bring your family and friends.
For tickets or to make a donation to the Duck Race Scholarship Fund, please email us at
georgetown.aauw.duck.race@gmail.com OR lynne.e.hester@gmail.com. Tickets also available from AAUW members.  Donations may also be mailed to Georgetown AAUW at the address below.
AAUW has a long history of administering fellowships at the national level and scholarships at the State/branch level.  AAUW Georgetown Branch is a 501 (c)(3) organization.
American Association of University Women
AAUW Georgetown Branch
1530 Sun City Blvd #483
Georgetown, TX 78633